"I am the light of the world. Whoever follows me will never walk in darkness,
but will have the light of life." John 8:12
You are invited to join us in brightening someone's Christmas this year by donating to our Christmas Hampers. 
Donations could include gifts and gift cards.
Donate in person at The Warehouse or The Beehive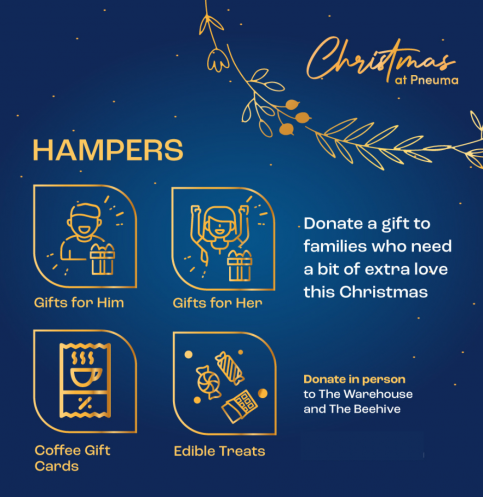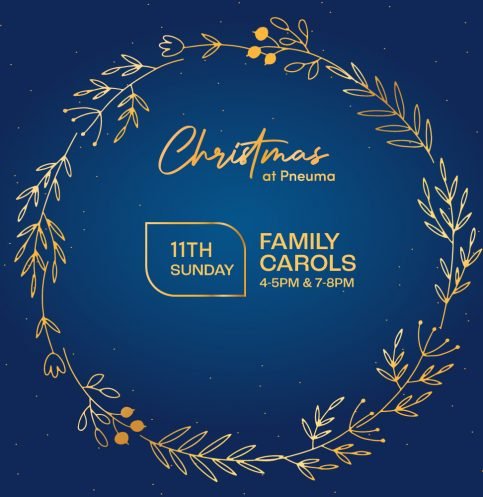 Join us for our family-friendly event; full of the Christmas story, fun and laughter, carols and chocolate!
December 11th | 4-5pm & 7-8pm
Christmas Worship In The Round
A space where we lean in to worshipping the God of this season and every season – in the round
December 18th | 9.30 – 11am
We love seeing in Christmas Day together with some gentle carols, hot chocolate and time to reflect.
December 24th | 11.30pm – 12.15am
Everyone is welcome to enjoy Christmas dinner as part of a community!
Email us to reserve your seat christmas@pneumachurch.uk
Similar to our Christmas Eve Chill, this is a quiet time of reflection and reconnection after all the celebrations of Christmas. 
December 31st | 6pm – 7pm
Everyone is welcome to join us on our New Year's Day Walk. Stay tuned for the location!
January 1st | 10.30am – 12.30pm

Location For All Events
Cobbs Wood Industrial Estate, Brunswick Road,
Ashford Kent,
TN23 1EH
01233 331919